brazilian butt lift before and after
Buttocks lift and augmentation with fat transfer.
Before and after photos of patients treated with autologous fat transfer to buttocks. The procedure includes liposuction 360 to collect fat from the abdomen, back, waist, and flanks and later transfer it to the hips and glutes. *Results vary by patient.
Procedure: Brazilian Butt Lift
Gender: Female
Age: 25
BMI: 23.5
Fat transferred: approx. 500 ccs of processed fat in each buttock.
View: Back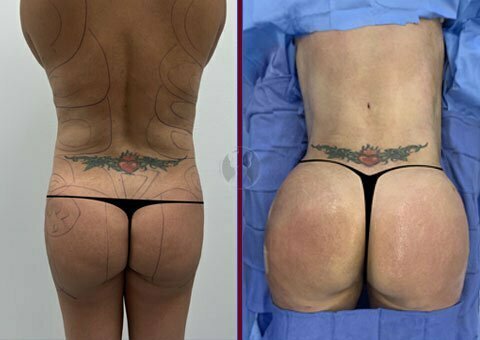 Procedure: Brazilian Butt Lift
Gender: Female
Age: 34
BMI: 25.7
Fat transferred: ~ 675 ccs of processed fat in each buttock.
View: Back
Procedure: Brazilian Butt Lift
Gender: Female
Age: 37
BMI: 27.5
Fat transferred: approx. 750 ccs of processed fat in each buttock.
View: Back
Procedure: Brazilian Butt Lift
Gender: Female
Age: 35
BMI: 26.6
Fat transferred: approx. 600 ccs of processed fat in each buttock.
View: Back