Breast reduction surgery helps people struggling with insecurities over excessively large breasts feel more comfortable and confident in their own skin. A skilled breast reduction surgeon can help to create natural-looking, sculpted breasts that leave you feeling free from the burden and weight of very large breasts. If you're looking for answers about where to get a breast reduction in Miami, keep reading to learn what to expect from this procedure.
Breast Reduction at Boutinic Aesthetics

Quick Overview
Breast Reduction price: $4,500 – $5,500
Financing available: Yes
Average office visits: Three to four
Anesthesia: General
Procedure time: One to two hours
Recovery timeline: One to two weeks 
Pain Rating: 6/10
Ready to travel After: Five to seven days
Ready to work After: five to fourteen days
Final results: One to three months
What Is Breast Reduction?
Also known as a reduction mammoplasty, a breast reduction is a procedure that removes excess breast fat, glandular tissue, and skin to create a breast size that aligns proportionally with your body. In many cases, breast reductions are performed to help relieve discomfort and strain associated with excessively large breasts. Breast reductions can also be performed as aesthetic procedures when patients are unhappy with the size of their breasts.
What Can a Reduction Mammoplasty Do for You?
Many people choose breast reductions because they are frustrated with large breasts that they feel are out of proportion with the rest of their bodies. From an aesthetic standout, breast reduction surgery can help you to feel more confident, create a slimmer appearance, and allow you to wear the types of clothing you want to wear. There is also a wellness aspect to breast reduction surgery. It's very common for people with excessively large breasts to experience pain in the back and shoulders. Many suffer from back pain, nerve pain, and poor sleep. It can also be very difficult to exercise when it feels like heavy breasts get in the way. A reduction allows people to feel free enough to lead active lives without constant pain and discomfort.
Increased satisfaction with the new size of breasts and areolas

Increased sexual confidence

Your clothes will fit better

No more skin irritation underneath the breasts

No more shoulder grooves and bra strap marks

No more back, shoulder, or neck pain
Best Candidates for Breast Reduction
Reduction surgery should be considered by anyone who feels uncomfortable with their large breasts. This might be a person who is experiencing pain and discomfort due to their breast size, has difficulty finding bras and clothing that fit, suffers from under-breast rashes, or feels self-conscious about their breast size. An ideal candidate should be in general good health.
Deciding About New Breast Size
One of the first things you'll discuss with your cosmetic surgeon during a consultation for a reduction is what you'd like your breasts to look like after surgery. Your surgeon will make recommendations for choosing a new breast size based on your body's proportions, breast composition, and your personal preferences. Your surgeon can also show you before-and-after photos of patients to help you get a realistic impression of what to expect.
Top-Rated Breast Reduction surgeons in Miami
Boutinic Aesthetics is a trusted plastic surgery clinic serving South Florida. Each surgeon in our office has 20 years of experience.
Breast Reduction Before and After Photos
Breast Reduction Incision Types
Like breast lifts, reductions can be done using several different methods. While Lollipop and inverted-T scars are the two most common options, periareolar incisions and scarless reductions are also options.
Also known as the vertical incision, a lollipop incision is a fairly new method that requires the surgeon to make an incision around the border of the areola that moves vertically down toward the breast crease. This is considered an ideal option for women seeking a moderate amount of tissue removal due to the fact that it doesn't require an incision along the bottom of the breast. As a result, there is less scarring. During a lollipop incision, the nipple and areola are repositioned to create a lifting effect. One of the big benefits of the lollipop breast reduction is that blood and nerve connections to the nipple are preserved to help maintain nipple sensation and function.
Also known as an anchor incision, the inverted T traces around the areola before shifting down vertically to the bottom of the breast. The same incision is then carried horizontally along the crease where the breast and chest wall meet. The inverted T incision is generally considered ideal when using a reduction to correct significant sagging. It is the incision type that produces the most dramatic lift.
Scarless breast reduction through lipo
With a "scarless" incision, two small incisions totaling roughly 3 mm in length are made in each breast. While this method does produce scarring, the scarring is generally invisible to the naked eye once fully healed
Periareolar incision scar
A periareolar incision scar creates a semicircle around the outer edge of the bottom of the areola. This technique allows for the scar to blend naturally into the pigmentation of the areola.
Your First Consultation With a Breast Reduction Specialist
There's no need to go into your consultation knowing which breast reduction technique is the right one for you. Your surgeon will go over all of the different options with you to help you make an informed choice that aligns with your aesthetic goals. During your consultation, your surgeon will also cover your reasons for seeking a reduction, your healthy history, your expectations, any medications you're taking, and other important details that may affect the outcome of the procedure.
How to Prepare for Breast Reduction Surgery
The best way to prepare for any form of breast surgery  is to maintain a healthy lifestyle in the weeks leading up to surgery. You may be asked to get a baseline mammogram, complete various lab tests, and participate in other evaluations to ensure that you're fit for surgery. In addition, your surgeon will advise you to give up smoking and drinking alcohol prior to surgery. You may also be instructed to stop taking certain herbal supplements and anti-inflammatory drugs to help control bleeding during surgery.
Breast Reduction Procedure Steps
What to Expect on the Surgery Day
While every client at our state-of-the-art surgical clinic in Miami can expect an experience tailored to their needs, there are some standard processes for surgery day. First, patients are prepped for surgery in a relaxing, sterile environment. The specifics of your surgery will be confirmed with you before you are placed under anesthesia. You should arrive on surgery day with your transportation home arranged in advance. If possible, arrange to have someone stay at your home with you during the first day of recovery.
A professional administers general anesthesia before the procedure begins to assure your comfort throughout the entire surgery.
The surgeon creates incisions based on the specific breast reduction technique.
3. Breast Reduction and Lifting
The surgeon eliminates excess fat, tissue, and skin from the breasts and lifts them to create a perfect shape and volume.
Stretched and disproportioned areolas can also be reshaped, resized, and aligned to achieve a proportional and symmetric breast appearance.
Once the breast tissue and excess skin have been removed, the surgeon closes the incisions and applies the necessary bandages.
Can I combine breast reduction with other cosmetic procedures?
Absolutely! It's very common to combine a reduction with a breast lift. In addition, many patients choose to create a "slimming" makeover by combining a breast reduction with liposuction, tummy tucks, and thigh lifts.
Recovering After a Reduction Mammoplasty
Dressings and bandages will be applied to your incisions immediately after surgery. In addition, it's common for a thin tube to be placed under the skin to drain excess blood and fluid. Your surgical team will provide you with instructions on how to care for your breasts at home. You will also be prescribed medication to manage pain.
Swelling, bruising, and a "pulling" sensation are all common following surgery. You may be instructed to wear a compression bra during recovery to assist with healing. Most people can expect to take up to a week off from work following surgery. However, it will take six to eight weeks before you'll be cleared to resume workouts.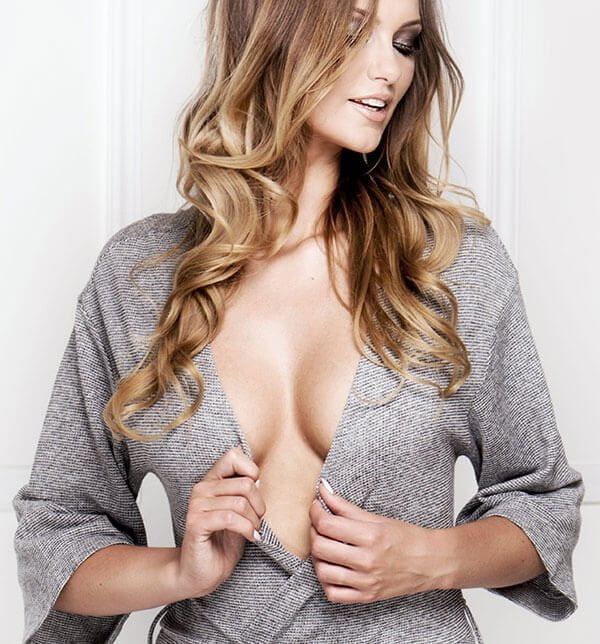 Miami Breast Reduction Cost and Financing
The average cost for a breast reduction procedure in Miami is $5,000. However, pricing can vary based on the type of incision used, the amount of tissue being reduced, and any other procedures that are being done in conjunction with the reduction.  The breast reduction price at our clinic starts at $4,500. Boutinic Aesthetics puts breast reductions within reach for people by providing easy financing options.
Is breast reduction covered by insurance?
It is possible for breast reduction to be covered by some insurance policies if it is ruled to be medically necessary. However, a reduction that is being done for cosmetic reasons will not be covered.
Make an Appointment Today
Are you wondering how to get a breast reduction in Miami? The skilled surgeons at Boutinic Aesthetics have performed thousands of breast reduction surgeries. We understand your desire to leave behind the burden and pain of excessively large breasts that are preventing you from feeling free in your body. Book a consultation at our state-of-the-art breast reduction clinic in Miami today!