Many people seeking to alter their facial aesthetic choose to have a rhinoplasty in Miami performed by skilled rhinoplasty surgeons.
Cosmetic nose surgery is a form of nasal reconstruction that resizes and reshapes the nose. Many people seek out rhinoplasty because they desire a nose that falls into better harmony with the rest of their features. Others are unhappy with the size and shape of their nose. Nose cosmetic surgery in Miami can also be used to correct damage from a broken nose that healed improperly. Boutinic Aesthetics is a leading provider of rhinoplasty in South Florida.
Rhinoplasty at Boutinic Aesthetics

Quick Overview
Rhinoplasty price: $5,000 – $5,500
Financing available: Yes

Average office visits: Four to six
Anesthesia: General
Procedure time: 1.5 hours or more
Recovery timeline: Two to four weeks

Pain Rating: 6.5 out of 10
Ready to travel After: One week
Ready to work After: One to two weeks
Final results: Three to six months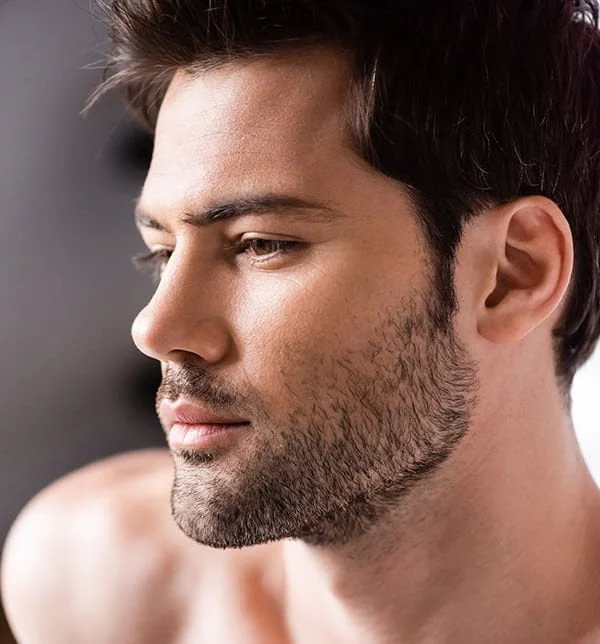 What Is Rhinoplasty AKA Nose Job?
Commonly known as a nose job, rhinoplasty is a popular surgical procedure that allows patients to change the size and shape of the nose. A desire for a new appearance isn't the only reason why people get nose jobs. Even people who are happy with how their noses look can benefit from rhinoplasty to correct breathing issues that affect sleep, exercise, and quality of life.
What Can Rhinoplasty Fix?
Rhinoplasty is a versatile procedure that can help with everything from correcting facial abnormalities to improving breathing. The most common reasons for rhinoplasty in Miami include:
Straightening a crooked nose.
Reducing excessive nasal tip projection.
Refining or reducing a bulbous nasal tip.
Correcting nasal-tip asymmetry.
Reducing the width of the nose.
Reducing the length of the nose.
Smoothing a nasal bump.
Correcting deformities from an injury.
Correcting a birth defect.
Improving breathing difficulties.
The most common reason for getting a nose job is a desire to improve a nose that appears "too large" for a face. Patients also routinely seek the expertise of the rhinoplasty surgeons at Boutinic Aesthetics for redoing a nose job. Secondary rhinoplasty is a procedure that revises poor results from a previous nose job.
Am I a Candidate for Cosmetic Nose Surgery?
The best way to determine if you're an ideal candidate for a nose job is to book a consultation with a surgeon. Generally, a good candidate should meet the criteria of being in general good health, not being a smoker, and having realistic aesthetic goals that can be achieved with surgery. Your consultation is a time to go over your health history to see if any concerns need to be addressed before you can move forward with a plan for surgery.
Can my rhinoplasty be combined with other procedures?
Yes, a nose job can be combined with a number of facial and body procedures. Nose jobs are commonly paired with facial liposuction, chin augmentation, and eyelid surgery.
Open and Closed Rhinoplasty Techniques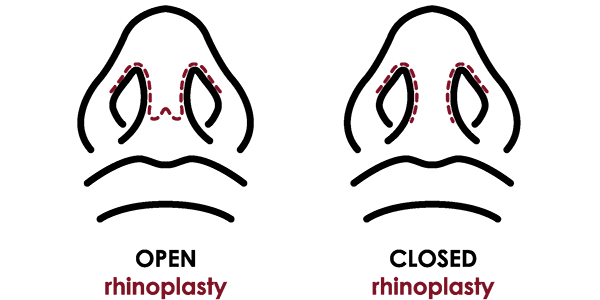 One of the first details you'll discuss when making a plan for nose job surgery in Miami is open rhinoplasty versus closed rhinoplasty. Possessing experience with both open and closed rhinoplasty techniques, Boutinic surgeons can provide you with unbiased, accurate opinions on the pros and cons of both options.
With an open rhinoplasty procedure, the incision is made across a narrow strip of the tissue separating the nostrils that's known as the columella. During a closed rhinoplasty, all of the incisions are fully hidden within the nostrils. This is why a closed rhinoplasty is often referred to as a "scarless" rhinoplasty. Both open and closed rhinoplasty procedures create incisions that gently lift the skin covering the nasal bones and cartilage to create access for restructuring and refining the nose.
Closed rhinoplasties may be preferred if a patient is highly concerned about scarring. Closed surgery can also be an ideal choice when the purpose of your rhinoplasty results is not necessarily focused on the tip of the nose. While the closed rhinoplasty offers the benefit of producing less exterior scarring, it's not always an ideal choice.
An open rhinoplasty allows surgeons to have more precision when altering nasal structures during complex nose jobs. The open rhinoplasty is recommended in cases where the tip of the nose is being reshaped, the nose is extremely crooked, or the patient is undergoing a revision rhinoplasty.
Best Rhinoplasty surgeons in Miami
Boutinic Aesthetics is a boutique cosmetic surgery clinic in South Florida that's considered one of the best plastic surgery centers for nose jobs in Miami. Each one of our surgeons brings 20 years of experience to our clinic. Our reputation, results, and emphasis on patient care speak for themselves!
Common Types of Rhinoplasty Surgeries
Surgeons can offer several different types of nose jobs to help clients achieve very specific aesthetic goals.
A traditional nose job typically involves incisions that allow the surgeon to restructure the internal nasal structure. It is a common procedure for people seeking to correct large nasal bumps, crooked cartilage, and other common nose imperfections.
Unlike rhinoplasty, the tip-plasty does not break the nasal bone. It is a much shorter procedure with a much shorter recovery time compared to other types of nose jobs. Tip-plasty only reshapes the cartilage section located in the front of the nose. It is commonly used to treat front-cartilage irregularities, curvature, enlargements, and roughness.
Septoplasty is the surgical procedure used to correct a deviated septum. During this surgery, the bone and cartilage dividing the space between the nostrils is straightened.
While a traditional nose job does not take into account specific traits and preferences tied to specific ethnicities when reshaping the nose, an ethic rhinoplasty procedure is focused on not erasing nasal features that are connected to one's ethnicity. Patients seeking this approach to getting a nose job will work closely with their surgeon to ensure that the design of their new nose allows them to honor their true features.
Revisions can be done when an original nose job does not produce the results that the patient intended. This procedure is relatively common due to the fact that predicting how a nose will heal following surgery can be complex. Tweaks may be needed in order to create the exact aesthetic a patient desires. However, some people end up needing revisions because they have not chosen a skilled, qualified plastic surgeon with experience in nasal procedures.
How Does Rhinoplasty Work?
While each plastic surgery procedure is tailored to meet the aesthetic preferences of the patient, the average patient seeking a nose job can expect the process to look like this:
Initial Rhinoplasty Consultation at Boutinic
When you attend a consultation with a Boutinic surgeon, you'll have an opportunity to discuss your desires for your "new nose" with a qualified cosmetic surgeon. Our surgeons can introduce you to different techniques and methods for achieving the aesthetic you desire. We can also show you before-and-after photos to help you get a realistic idea of what this surgery can achieve for you.
On surgery day, the patient will be given intravenous sedation, general anesthesia, or another option for their comfort during surgery.
The location of the incisions used will vary based on the choice for either a closed or open procedure. During the incisions process, the skin covering the nasal bones and cartilage is gently raised to provide the surgeon with access to the nasal structure.
3. Reshaping and Restructuring
When a nose is being reduced and reshaped, the surgeon may remove bone and cartilage. It is sometimes necessary to use cartilage grafts to reshape the nose to the client's desired specifications. However, surgeons are generally able to use cartilage from the patient's own septum. If a patient would like nostril size reduced to match a newly streamlined nose, additional incisions may be created within the natural creases of the nostrils to reduce their size.
4. Addressing a Deviated Septum
If one of the goals of surgery is to correct a deviated septum, the surgeon will straighten and reduce the septum.
Once the surgeon is satisfied with the new shape and size of the nose, the nasal skin and tissue will be redraped. Incisions are then closed using sutures.
Recovering From Rhinoplasty Surgery
The surgical site will either be packed or splinted when the patient wakes up. The nose will also be covered in bandages to help protect and support the newly shaped nose. Generally, post-operative dressings will need to stay in place for a full week before they can be removed by the surgeon during stitch removal. Pain and swelling are common following a nose job.
The nose will be extremely delicate and vulnerable in the days and weeks following surgery. You will be sent home with specific post-operative instructions for properly caring for your nose to produce the best possible outcome. While most patients can resume most normal activities one to two weeks following surgery, swelling often lingers for several months. You will be given a detailed timeline for avoiding specific activities during recovery after rhinoplasty. The list includes blowing your nose, taking a shower, wearing glasses, bumping your nose, and wearing makeup.
What Results Can I Expect After Nose Surgery?
Swelling can conceal the results of nose surgery for several weeks. However, patients generally begin to notice the streamlined shape of the nose becoming a little more visible after several weeks. Results become pronounced after three months.
Potential Risks Associated With Rhinoplasty
While a nose job is a common plastic surgery procedure that is well-tolerated by most patients, potential risks exist with any type of surgical procedure. Potential risks associated with nose jobs include infection, nasal septum perforation, scarring, skin discoloration, and unsatisfactory nasal appearance. Risks for this procedure will be explained to you in detail during your consultation prior to surgery.
Average Rhinoplasty Cost in Miami
The cost for this procedure can range from $2,000 to $10,000. While most patients in Miami are paying around $6,000 for a nose job, the cost for your procedure will vary based on the type of nose job you select.
Rhinoplasty Financing Options
Cost doesn't have to stand in the way of finally getting the nose you want! At Boutinic in Miami, our cosmetic surgery clinic offers competitive prices with a variety of financing options and in-house payment plans. Boutinic can choose from PatientFi, United, and Alphaeon credit. Our in-house layaway plan allows patients to put down just $250 before spreading the rest of the cost for a procedure 36 monthly payments.
Contact a rhinoplasty surgeon in Miami today
Discover what's possible when you work with trusted rhinoplasty surgeons in Miami. Our clinic offers the latest surgical technologies in a state-of-the-art, patient-focused setting. Book your consultation with Boutinic Aesthetics today.